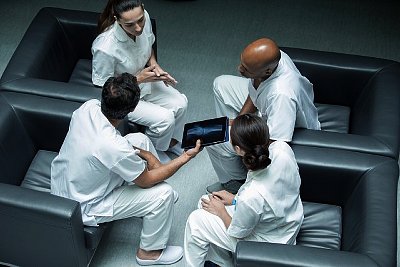 The Oregon Legislature's Healthcare Workforce Committee recommended the development of a statewide, inclusive primary care GME Consortium and stated in a 2014 report that "a GME Consortium would allow all those who would benefit from a community-based primary care residency program to participate, to share the risks and rewards and support each other through the process."
To implement this recommendation, the Oregon GME Planning Group formed. Planning Group members included representatives from both of Oregon's medical schools, OHSU and the College of Osteopathic Medicine of the Pacific Northwest (COMP-Northwest), two health systems, the Oregon Health Authority, the Area Health Education Center of Southwest Oregon (AHECSW), and several experts in Family Medicine GME. The group selected Tripp Umbach, a Pittsburgh-based consulting firm, to guide the development of the Consortium.
The Consortium will develop a funding model for new residency programs. Currently, the Centers for Medicare and Medicaid (CMS) provide payments for graduate medical education, but those payments fall short of covering program costs. Consortium members will contribute financially to support the development of the program, however, additional support will come from state, community and philanthropic organizations. Benefits to members include increased access to qualified healthcare providers, a decrease in recruiting costs, improved access for patients, and a decrease in provider turnover.
The Consortium will create new primary care residency programs in many areas of the state. The residency programs will be structured in agreement with standards of the Accreditation Council for Graduate Medical Education. These programs will allow Oregon's medical school graduates to remain in Oregon to complete their residency training.